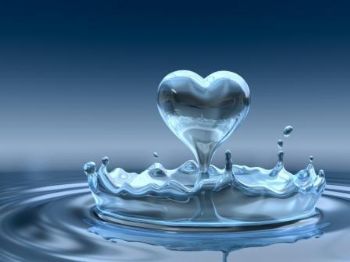 Today really flew by. My son and I went to town for lunch (I had a chicken flatbread sandwich at Subway...it was really good!) and then meandered around Wal-Mart. I kept it under $100 today.
I bought 3 plastic totes: 1 for the van to keep things in like oil, antifreeze, a winter emergency kit, etc. and 2 for clothes that I will fit into. They are currently in cardboard boxes and I just don't care for that much. Something about mice and bugs.



I found that water drop picture today and thought it was a good way to make sure I drink my water - it's got to be good for my heart, right?

I got my results back for the heart screening I did and all were good except my calcium. I had a score of 1 (out of 1,000) which is high for my age group. I will mention that to my doctor, but I already know all the things I need to do: lower my cholesterol, lose weight, drink less diet soda, drink more water.

Uff da. The last 2 will be the hardest to wrap my head around, I think.

I created a little (by little, I mean little!) calendar/planner page on which I can track what I ate for the day, and my exercises for the day. My best friend (who lives in Norway) gave me a small dayplanner that is the perfect size for my purse. But it isn't very easy to find refills here, and certainly not what I was looking for. I had seen a quick article about a planner at daytimer.com/nutrition and I loved it. BUT it was $49.99 + $8.95 shipping!!!! So I am making my own using index cards and then my son and I will punch 6 holes in each one...yeesh.
That will be easier to keep at my desk and help me be more accountable as far as what I am eating and doing each day.

Today's exercise consisted of shopping and cleaning house. I only did a little housecleaning, about 20 minutes, but I broke a sweat so it counts!



Tomorrow's goal is 30 minutes on the treadmill or doing a WATP video, and 15 minutes of strength training. That gives me 5 points to log at work, whereas today I think I will only get 2. Still, not a bad start! Better than a ZERO!



I weighed myself this morning and I am pretty much right back where I started. Ugh. But everyone has to start somewhere. My sister-in-law sent pictures from Christmas and I was just appalled at how I looked. No time like the present to prepare for the future!!

On that note, it's about time to get to printing and and transferring file from this computer to the external hard drive. Hard to believe that I have only 25% capacity left on this thing. Must be all those pictures!!



~~Heather