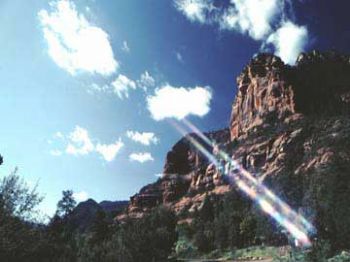 I just love that sun streak...but I am also loving my streaks. Nine days in a row of drinking 8 glasses of water....9 days in a row of posting on the message boards...and 9 days in a row of at least 10 minutes of exercise!!

The New You Boot Camp Challenge has been kicking my backside!! And my frontside...and my arms....and my legs....LOL I can't fully do everything, but I come fairly close. (OK...that whole kickboxing thing? I'm marching in place for a lot of it! LOL) And tomorrow's challenge...a 15-minute ab workout? YIKES. I'm watching it now, so I have an idea how rough it will be!
I have done 30 minutes of structured aerobic exercise or 60 minutes of unstructured aerobic exercise for the past 9 days. Saturday and Sunday were the unstructured days with grocery shopping on Saturday (broke up across 3 stores) and serious housecleaning Sunday. I am proud of myself in that I did the WATP Express 2-mile walk twice in that time frame. I don't have a stretchy band, but that's okay. It might be a bit more than I can handle right now. One thing I have noticed, both with the 2-mile walk and the 1-mile walk, my left hip is sore. Not painful, just sore. I don't know why, but I will keep an eye on it as time goes by.
Yesterday's weather was a BEAR!!

I stayed home from work, I will make up the time on Saturday. I still get a 3-day weekend, since next Monday is a floating holiday and Tuesday is my regular scheduled day off. I was a bit upset that the school didn't close until 1pm. By that time, I had sent my husband in to pick up my son, I did not want him coming home on the bus!! I really should not have even let him go to school. I did take advantage of it and start my first knitting project!! And then I got a very nice surprise when the mail arrived...a package from my best friend in Norway!! She made me a beautiful wool hat and an adorable felt angel, plus 2 books. How fun!!! I can't wait to wear the hat today!!
I did have one disappointment this week. I bought a "portable pilates studio" which is a bar and video. But the DVD didn't work. So I exchanged it. The SECOND dvd didn't work!! So I will exchange it for a better floor mat. My plan this next weekend is to tidy up my room so I can work out in there. I will need a really thick floor mat for on the hardwood floor!! Even on the carpet, a thicker mat will be nice.
So into town early I will go today...which means careful lunch planning. I need to pack a salad as today's Bonus Challenge is to add a salad to one of my meals. Well...as luck would have it, I now won't be having soup & salad at home as planned. So I will add a salad to my dinner (which I eat at work) instead.
I hope everyone has a great day!!
~~Heather