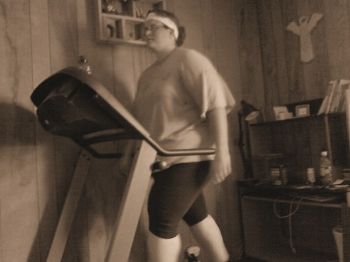 Three days of blogging in a row...that must be some type of record for me.

It's a beautiful day out, not too hot but still requiring the use of the AC. I can live with that.
I managed to do another 60 minutes on the treadmill...30 at a "workout pace" for me, and 30 at a stroll. It's not as hard to carve out that hour as I thought it would be, but then, I'm probably using it as an excuse not to work.

School starts for my DS in 8 days. 8 days. Woohoo!! (Not that I'm counting or anything. And it could be worse (for him)....Sioux Falls is starting on Monday already.) My goal is at that point to get up and do the strolling pace while outside walking my dog.

Then I can just do the 30 minutes later in the morning or in the afternoon. We'll see what happens. Either way, my DS is going to start getting up a whole lot earlier tomorrow!! Time to break the habit of sleeping until 9:30-10:00!!
I haven't heard back from the company I interviewed with a couple weeks ago. I still am hoping, though. No news is not bad news, right?

Thursday I will be doing a "pep test" (perhaps a precursor to an interview?) in the liquor department of the local grocery store (well, still 20 miles away, but close enough). It's only part-time, but it's better than nothing.
We have decided to give up one of our dogs. A very hard decision, but he really needs someone who can give him more attention than we do. He has a longer coat than I thought and it needs daily brushing. He also needs more training. We will miss him, but it will be for the best. He's a doll, and we love him, we just aren't as attentive as we should be. We listed him on Freecycle, but only 1 hit and that was for someone who wanted us to take him over 100 miles. Is it wrong of me to think that if you can't afford to come pick him up, then you can't afford his vet bills also? (We did specify in the "listing" that you must be able to pick him up here.) Of course, if we get no hits, we'll have to figure something out. He may be "stuck" with us!

Well..off to work some more! Thanks for listening to my rambling!!
~~
Heather