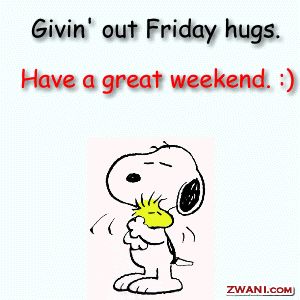 Most people are off on weekends, so to all of them, TGIF!!
I technically am scheduled to work a few hours each weekend day with one contract, and the other I can log on when I want. But it's all good. I can still enjoy Fridays!!
I didn't post last night...we had an electrical storm come through. Lots of lightning for about 3 hours. Thunder that made the house shiver. It was great.

I did get to finish reading "The Sisterhood of the Traveling Pants" and now I need to go back to the library to get the other 3 books. I have one more mystery to read that I checked out from the library, then I can get on with the Twilight series. Then Tanya can talk about them with me!

I had an interview at the local grocery store for the liquor department. Rather ironic, since I'm not much on drinking. We'll see, I haven't heard back from him yet. I also haven't heard back from First Premier. I called them this morning to check on the status, and she said she would call back...but I am not holding my breath at this point. I don't understand why there cannot be a happy medium. There are no full time jobs for me, but my DH is happy where he is, and also has a standing offer for more money with benefits. (He claims he will negotiate with his current employer when his supervisor gets back, as we really do need health insurance.) But all I can find are jobs that pay $7-8 an hour for 15-20 hours a week. It's better than nothing, but I still feel like I am being wasted here. *sigh* Well, something will come up, right?
I am now debating on opening a checking account at USBank or WellsFargo. My credit union is in the Black Hills, 300 miles away. Makes it hard to cash a check when my son's grandmother sends it.

For now, we've mailed it to my Dad to cash and get a Visa gift card to mail back. I'm leaning towards USBank, they offer a bit more for me. We'll see.
We have 2 hits now on our pup. I will be sad to see him go, but I think he will enjoy being able to run around a farm much better. I am very appreciate of these families, because they are taking the time to learn more about him and his breed before making the decision. Something I need to work on.

Today's plan, since it is my day off, is 30-60 minutes on the treadmill, and work on sorting my office. I really hate the decluttered look it has. I've always tried to keep my work spaces neat, but my home office seems to be a "catch all" for stuff. *sigh* I can usually get a bag of stuff to either throw away or give away when I start sorting, so that's where I start.
Thanks for reading!!
~~
Heather