Works in progress Wednesday - :-) We'll see if I can manage to do this weekly.
#1 WIP is me, of course. Mentally I'm doing really well. Positive thoughts are taking over negative ones which is always good. This week is a tough one physically, though. I just can't seem to be anything less than tired. For pete's sake yesterday I was watching "The Tommyknockers" and chatting with a friend online and just about fell asleep in my chair. But come time for bed, it's like all my senses are out of whack. It's not even like my brain is going into overdrive overthinking things, either. I'm just...awake. No real thoughts or issues. Just not sleeping. I've started just sitting and kind of rocking myself for a bit to see if that helps and it does seem to. So maybe I need to spend some quite time in my rocking chair before I go to bed.
#2 WIP is another Lil Sunhat. I started this Sunday afternoon and I'm modifying the pattern a bit on the brim to accomodate not using thread for the trim. It will be done by the end of the week.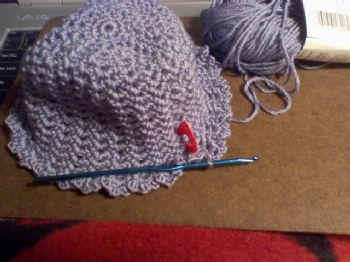 #3 WIP is still the afghan. I didn't quite get it done. Should get it done this weekend, though. No recent pictures.
#4 WIP is the reverse mitered squares. As you can see, by the 3rd one I was getting much better. The first 2 (in yellow/pink) are definitely starter squares! lol I will finish the 4th one on the needles and do 2 more in the yarn sitting up top and get those sent off. These are being done with a group of friends out of sock yarn and one of us (or two of us) will be stitching these squares together to make a baby blanket. I can't wait to see the final product!!
#5 WIP are daisy afghan squares. These are also part of a group project for a friend moving and getting married. This is one of three that I will do.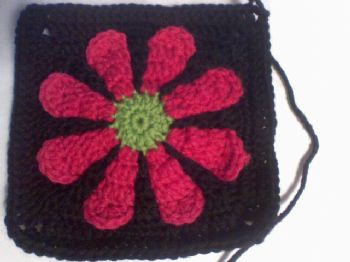 And, for anyone curious - I went back to the river Monday afternoon and this is what I found: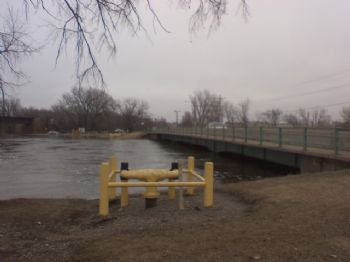 I'll probably walk down there again today. It's a decent walk and the dog enjoys it, too.