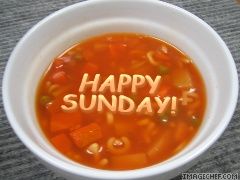 Well, it's another wet, rainy day. But that's okay. We kind of vegged today. Yes, the air conditioner is still in the window upstairs. But that one is really sealed well, it could almost stay up. But it won't.

I caught up on my TV from last week. I know...I need to do that the next morning while on the treadmill. Which means....I need to get my workout clothes laid out the night before. Which I will do as soon as I am done blogging. I have to put my clean clothes away anyway.
My spousal unit is gone until sometime Tuesday. Today was a very quiet day. No fighting, no walking away in frustration, just quiet. Well...until the neighbors on the other side of my neighbors began going in and out of the driveway with their pickup. That got my dog's attention, of course. (Loud pickup.) To top it off, this neighbor (who has threatened to shoot others in his old home 2 blocks away) is also the owner of a chow-chow dog. Who apparently likes our yard. So much so that at least 2 mornings this week my spousal unit has commented that it was there when he took our dog out and tonight my son had to get her back when she chased it off the property. Hopefully this is just them not realizing what is going on and it will end. I imagine I will have to go over and talk to them and ask them to please keep an eye on their dog and keep it out of our yard. I hate talking to people about things like that. *sigh* But, then too, we don't know for sure it's their dog, either. We'll see how it plays out.
We did attack the entertainment center. I needed to clean behind it for the Dish Network guy Tuesday (spilled cat food and such). I also eliminated my stereo (isn't recognizing CDs for some reason) and the VCR. Man does it look empty, now.

I'm anxious to have the DVR service, though. The VCR kept putting squiggly lines on the faces!!

Plus, we have a couple shows that are on at the same time which makes it hard to record. And, the way I had to put things together, I had to have the TV on to record. So those middle of the night shows? Meant the TV was on overnight.

Thankfully, not many of those. And don't tell anyone...but I dusted the entertainment center while I was at it!!
My son was making pancakes for lunch, when he realized we were out of vegetable oil. So we found a recipe that didn't use it (he had already mixed the eggs and milk). No problem. Then we realize there is just enough syrup to tease, not enough to be good. No problem. I can make syrup with white sugar, brown sugar and water. Except we have no brown sugar. I remember, from www.budget101.com, that you can make your own with white sugar and molasses. Except...we have maybe 1/4 cup of sugar left?! This is utterly ridiculous!! Between the 2 of us we now make over $45K a year and we can't go into the grocery and buy even the basics anymore??? I am so mad I could spit!! Where does all the money go?
Just another frustration. I really can't blame him, because he has been really good (since July) of turning his paychecks over to me and only holding on to his gas money. Of course, I haven't seen a stub in months, so for all I know he is getting huge gratuities and doing who knows what with it. Food, to him, is not necessarily a priority. He is okay with fatty meats, no vegetables or fruits, and lots of carbs. I prefer lower-fat meats, some carbs, and fruits. I'm still working on liking more veggies.

And I can tell I'm not eating well. I'm tired constantly, lots of headaches, and I just don't "feel right." I can buy for myself and my son, and separate for him, or I can buy what we can afford, which is what he eats.
However...with time, these things will change. I just need to be patient and get in as many nutrients as I can. I suppose that is what vitamins are for?
On a positive note...the house still feels nice and warm. The critters are all healthy. In fact, after I switched cat foods, there have only been 3 incidents of urp-ups. That was 2 weeks ago. Before we would find urp-ups maybe 3 times a day. The geckos are loving the superworms (very creepy things!!) and the hedgehog is still happy running on her own "treadmill." I wish I had that same zeal for mine!!

The dishwasher is functioning, even if I did tweak a screw to get it to work. I am gearing up for NaNoWriMo again this year. (www.nanowrimo.org) Tuesday I will have better TV service and unlimited long distance.
Crud. Tuesday I have to hope the guys at the CoOp can figure out why my tail light isn't working, and hope they can do it for $40 as that is all I have left. But if it isn't working be Wednesday, my 10-day grace period is up and I'm sure I'll get a ticket since I drive home at night. (Replaced the bulb...still not working.)
Ah well. We'll see what happens.

~~
Heather