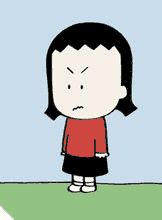 No no no...that's not right....
THAT'S more like it!!
It started off as a good day. I didn't exercise

but I at least managed to stay awake. I went to bed at 1030 last night, but didn't get to sleep until after midnight.

Tomorrow I will get up, have my yogurt, and when my son gets on the bus, back to the bedroom to work out.
I was fairly lazy this morning, chatting with friends online...hehehe. At 1, after lunch, I went into my home office to prepare paperwork for a contract, then do some MT work. First, though, I needed to install my all-in-one printer on the desktop so I could scan the papers and email them rather than sending them via fax. At 330...yes, 330...I finally got it installed and the forms printed. THEN I couldn't get it to scan! I finally got that done and the papers emailed at around 5.
On to the MT. I log in, download a file. Sweet! It's an actual transcription file, which pays twice as much as an editing file (editing a file typed by voice recognition). Then the program tells me I'm using hardware that is installed outside of my range? What?! I can hear sound...but it won't play the file. By this time I am furious. I log out (which means I lose that file, it gets passed on to another MT) and restart the computer. And it works fine.

So I did 2 files, and by now it is 6pm. Time for local news.
And there sits my spousal unit. He'd been playing on his laptop all. day. long. He had mentioned that he would work on the pantry today. (His mother, God bless her! sent home 5 boxes of groceries!!) It was a pit...too many plastic containers, none put away properly...slowcookers poised to fall...oy. So at 615 I asked if he had plans for supper (because normal people at at 5 or at 6...right?). No response. None. Not even a glance. So when the news is done I made broccoli & cheese rice a roni and when it's done add some canned chicken (which I really like). As it is in the final simmering, I start on the pantry closet. And I am *not* quiet about it. He walks in and asks, "Whatcha cookin' honey?" in this simpery-sweet voice. I didn't bother to answer. Mature, I know, but dang it...
My son and I cleaned up the living room. My son brought EVERYTHING downstairs from his room and we sorted through it...which took ALL WEEKEND. I've done 4 loads of dishes since Saturday. I vacuum. I sweep. I cleaned the superworms' critter-keeper. I look for a job. I try to do more MT work to get more experience. I do all the laundry (although my son is doing that now as he owes me a lot of money). Heaven forbid I get help from my spouse without getting torqued off first.
Well...not that it can be seen...there was about a 45-minute gap in there. I spoke to my brother about my computer and figured out my best option. I had been operating under the assumption that I had a gig of RAM on that poor thing. This is a 2003 Dell. It's been doing the job wonderfully for me. It has a 2.5ghz processor, 80 gig hdd (which is not even 1/2 full) so I could not understand why it was bogging down all the time. Turns out...I have only 256 mg of RAM!!! And my programs require 512 or more!! Poor thing. Soo...in a month or so I will buy some RAM and install it. That will solve that problem. Yippee!!
Tomorrow I have an interview at Wells Fargo, plus I need to drop off an application at Lewis Drug (pharmacy tech/cashier). Then home again to work. Spouse has indicated he will finish the dishes tomorrow morning and help me with the pantry tomorrow afternoon. We will see....
~~Heather