Ziggy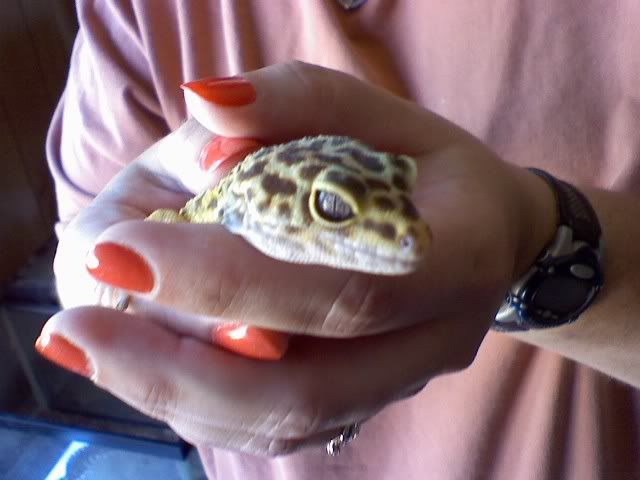 Izzy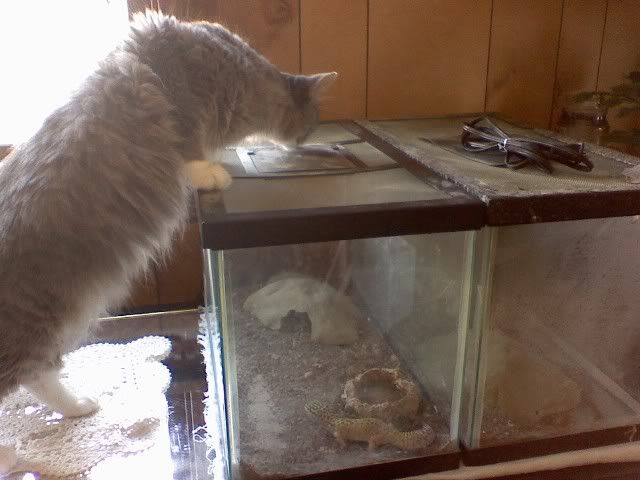 Fuzzy checking Iggy out.
We got 2 leopard geckos today!!
They were on Freecycle, a lady can't take care of all her critters anymore. They are actually really sweet and *very* soft. The female is "Izzy" and the male is "Ziggy." I had them named that before I even saw them, and nothing else seemed to fit. :-) The poor cats aren't sure which is more of a curiosity...the geckos or the crickets!!
(edited as my DH suggested "Izzy" instead of "Iggy" for the female, so we renamed her. Again. lol)
Things are going well. I start doing phone calls Monday. I could log in between now and then, but I think I won't. I'm just not altogether that anxious to be on the phones, ya know? I am off full QA for my medical transcription contract. That means that they no longer read all my reports before going to the hospital/doctor/clinic, but will instead randomly check them. That makes me *very* happy! I also potentially have another contract coming in...I'm still waiting to hear back.
I'm looking forward to spending a week in the Black Hills, the 21-27th. My DH will be unable to come with, but that's OK. He can take care of the new critters!

I'm slowly still losing weight. I do miss the vet clinic job in that respect. But such is life. I did notice, on my ticker from ticker factory, that my BMI is down a full 2 percentage points. I thought that was pretty amazing!!
Not much else...trying to at least make ends meet...and maybe be winter be slightly coming out ahead? We'll see what the future brings.
~~Heather